War is ... surreal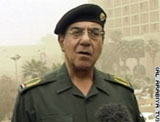 "I have no gate key"
One of the strangest parts of all the media coverage of the War on Iraq has got to be, without a doubt, the Iraqi (Mis)Information Minister, Mohammed Saeed al-Sahaf. First he insisted that Coalition forces were making no headway into the country at all. He referred to a car bomber (that did, in fact, kill four US soldiers) having blown up four or five Abrams tanks, a few armored personnel carriers, and a bunch of soldiers (perhaps the car bomb was a nuke ... no, wait, Iraq doesn't have those). Then, as US forces began rolling onto the runway at Saddam International, he insisted that US troops weren't within 100 miles of Baghdad and were all "nailed down". OK, well, they were at the airport, having evidently dropped several tanks from passing airplanes (since they couldn't have travelled the 100
feet
miles that quickly -- and, after all, they were nailed down), but were being "destroyed" by Iraqi forces.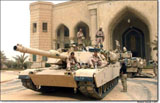 A US tank in front of a clever mock-up of one of Saddam's palaces
Even now, as US troops recline in one of Saddam's palaces, he insists that there are no US troops anywhere in the city. Of course, he had to give that briefing at a hotel. He couldn't give it at the Information Ministry building, because
US troops had taken it over
it was closed for renovation and remodeling. One report I read noted that he had to speak loudly to be heard over the gunfire. Presumably someone in the city was using an AK-47 to shoot a chicken for dinner.
Seriously, what's the point? He's going to give a briefing soon about how there are no US troops in Baghdad that will be interrupted by the sight of an Abrams tank rolling by in the background. His briefings have become surreal beyond words. Is it just that the government there is so used to lying that they don't know how to do anything else??

Posted by Mike at
12:16 AM
|
Comments (1)