Club feet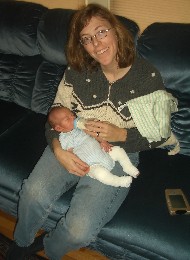 Nathan was born practically perfect in every way. Except that he has club foot. Or, rather, club feet. Both his feet are turned inward, as if his feet were clapping. It's an affliction that affects about 1/1000 babies in the US, according to things we've read. It's one of the most common birth defects.
On Friday, Nathan had his first appointment with the pediatric orthopedist at Lucille Packard Children's Hospital. The doctor said that it looked like his would be a pretty easy case to correct. He's using the Ponseti treatment to correct the feet. Basically, Nathan will wear casts (groin to toe) on his feet for six weeks (changed every week since he's growing so quickly), then braces on his feet 24 hours a day for three months, then braces only at night until he's 3 or 4 years old.
To our surprise, Nathan was able to get his first casts put on in our first visit, so he came home on Friday with his legs all wrapped up. It doesn't seem to hurt him, but he was very grumpy the first day, probably from frustration over not being able to curl his legs up or stretch them out at all. By yesterday, though, he was mostly back to his normal (very mellow) self.
Posted by Mike at January 9, 2005 06:50 PM