Jake is in the house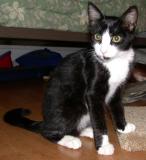 Here's a picture of our new cat that Meredith wrote about. The winning name is, indeed, Jake.
All of the stuff the Humane Society gave us talked about how the cat would be really lethargic (because of the anesthesia from being neutered) and shy and not want any attention when he first came home.
NOT.
He's pretty cute...
Posted by Mike at
10:52 AM
|
Comments (4)