they thought she was a goner, but. . .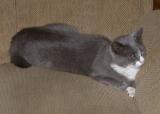 We have adopted a cat.
Those of you loyal readers who know us well will be surprised by this for several reasons. 1) I have been begging to get a cat ever since we got married 2) Mike has said no, ever since we got married 3) I am so allergic to cats that they make my eyes swell completely shut (unlike mustard, however, I have never had to ride in an ambulance because of a cat (see earlier blog for details).
Here's what happened.
Mike and I went out for ice cream after dinner (in an obviously unsuccessful attempt to eat healthier, we have stopped keeping ice cream in the house). We walked down to Baskin Robbins, which is just past the park on the other side of El Camino. Afterwards, as is our way, we went for a walk while we licked our cones into oblivion. Since we were already on the other side of El Camino, I proposed exploring a new neighborhood. Mike agreed, and off we meandered.
In our meanderings, we explored the Little League fields. It had been years since I'd been on a real baseball field, and it felt like a good place to eat ice cream, talk of memories past, and generally look wholesome and all-American.
It was there that we met the cat. She first approached us on the baseball field, followed us to the snack stand, followed us to the bleachers, and followed us to the back fence. Unlike most cats, she approached us. And, unlike most cats, she carefully alternated her attention between me and Mike. This is an egalitarian cat.
We pet her for a while, then stood up to go. The cat followed. We walked to the fence of the park. The cat followed. We walked out of the park and down the street. The cat followed. We crossed the busy street and headed back toward El Camino, thinking that surely the cat had reached her territorial limits.
The cat followed.
At this point, we are sensing a moral dilemma. If the cat continues to follow and tries to cross El Camino, it will quickly become a cat pancake. We decide that this cat is going to follow us no-matter-what, so we pick the cat up and carry her right across El Camino.
The cat freaks out.
We put her down on a side street across El Camino. She is still freaking out. She has no idea where she is, and she no longer trusts us. We decide that we have made the wrong choice, and that we will carry the cat back across El Camino back to the baseball diamond where we first found her.
After much scratching, hissing, and biting (and you should have seen what the cat was doing!), we get the cat back across El Camino. We cannot successfully carry her right to the park, but we figure she is close enough to navigate her furry ass back home. We start to walk back home.
The cat follows.
Unbelievable. At this point, we decide it is a done deal. We send Mike home for the car so we do not have to do this hissy fit thing again as we cross El Camino. Although my heart is breaking, I continue trying to walk her back to the park. And I do! I get her right back to the original baseball diamond. Hallelujah. Mike arrives with the car, and we start back on the way home, broken-hearted but pleased with ourselves that we have done the right thing.
The cat follows.
The cat climbs in the car.
We drive the cat back home. After exploring the house and eating some shredded sandwich meat, she calms down considerably. We let her sleep outside, until we hear pitiful mewing. I let her in, and she curls up on the rocking chair. We go back to sleep until we hear pitiful mewing. I let the cat out. We go back to sleep again. We let the cat in, wake up, and open some tuna fish.
So, if you know anybody in Mountain View who's missing a rather daft, if loyal, kitty cat. . . . well, I'll leave the moral dilemma up to you. I can't quite see clearly about this anymore. My eye is swollen shut.
Posted by Meredith at
11:22 AM
|
Comments (3)